NEWS & INFO
♥ February 14 is Valentine's Day! ♥ Surprise your sweetheart with ♥Dine in the Castle♥ with our special -> Valentine's Menu. Our restaurant is open on February 14 from 12 o'clock.  We are happy to receive your reservation under phone +49(0)351/8099-193.
You don't want to go home after dinner? Then stay at the castle with our package –> "Dinner and pillow"
---
ECKBERG's TEATIME – Enjoy an "Afternoon Tea" in our lobby by the fireplace
or in our winter garden. Choose a tea to suit your taste, served with typical snacks,
traditionally on a cake stand. Price per set € 19.50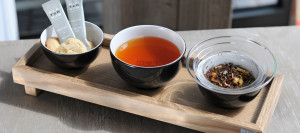 ---
We are proud to have been honored by the IHK Dresden (Chamber of Commerce and Industry)  as a "Exemplary Training Company". –> Press article in the DNN (Dresden Newspaper)
---
 We were recommended in the blog post "Getting married at the Castle" by trivago than Wedding Hotel!
---
The Dresden city council has decided to introduce a lodging tax. As of 01.07.2015 tourists have to pay a sum of an average of 6.6 percent as expenses tax on the room rate – the so-called "bed tax". More information you can find by www.dresden.de – searching "Beherbergungssteuer".